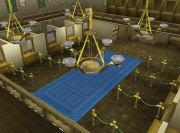 Banks are where players store their items. F2p players only got a limited amount of space. Members can store as many more items.In banks you can also retrieve items bought from Grand Exchange.
WITHDRAWALS
Edit
You can retrieve your items in many different options.Here's a list of them:
Withdraw-1-Withraw one item.
Withdraw-5-Withdraw five items.
Withdraw-10-Withdraw ten items.
Withdraw-50-Withdraw fifty items.
Withdraw-(n)-Withdraw (n) items, where (n)is a custom amount based on the amount entered in the last transaction.
Withdraw-x-Withdraw x is where you enter how much you want to take.
Withdraw-all-Withdraw all items in the bank.
Withdraw-all but one-Withdraw all items except one .And you can lock in the custom amount (n) for subsequent transactions.
Ad blocker interference detected!
Wikia is a free-to-use site that makes money from advertising. We have a modified experience for viewers using ad blockers

Wikia is not accessible if you've made further modifications. Remove the custom ad blocker rule(s) and the page will load as expected.